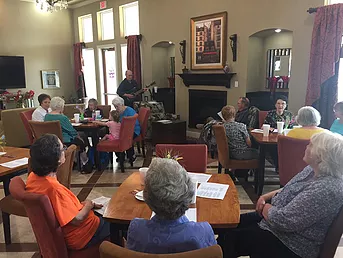 Pioneer Crossing Worship
We meet at Pioneer Crossing, a Senior Adult Living Community in Sulphur Springs, the second and fourth Tuesdays of every month at 11:00 am for a time worship and the Word. Our Worship at Pioneer Crossing is "Gaither Style" music with classic hymns of the faith. Sonny Kell is our worship leader. As a part of the service, we have a fellowship time and luncheon.
To find out more about our Pioneer Crossing Worship, email admin@hopefamily.tv or call (903) 885-7401.